A Complete Image Hover Effects System for WP
Show Image Hover Effects On Featured Images.
Apply Awesome Hover Effect On Woocommerce Products.
Apply Hover Effects On Custom Images Using Shortcodes.
Visual Composer Supported. Visual Composer's Addon Included.
+100 Beautiful Hover Effects. Apply own customization on effects.
Buy Now - Instant Download
Image Hover Effects Examples
We have created working examples to show you the demo of image hover effects that this plugin provides.
How to Get Started?
For getting started, in real you just need to activate this plugin. This plugin automatically applies awesome image hover effects on featured images of posts, pages, any registered custom post types and on woocommerce products if installed. All you need is to change/customise effects if you want.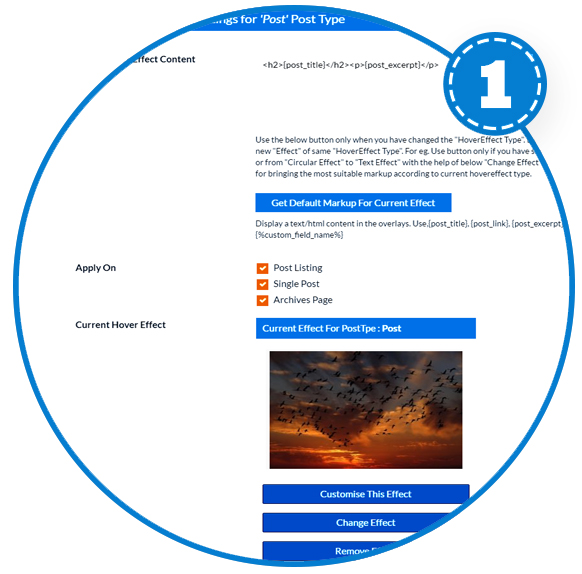 Go To Plugins Settings Page.
From here you can change default settings.
Here you will see buttons for changing / customising and removing the image hover effect. Click on "Change Effect" will take you to Image Effects Gallery page from where you can set a new image hover effect for any post type.
Setting A New Hover Effect For A Post Type
From the Effects Gallery page, you can easily set a new hover effect for any post type.
Click on the "Show SImilar Effects" button to see previews of all image hover effects of its kind. Finalise a hover effect, click on its "Apply Here" button.
A popup will appear from where you can set this effect for any particular post type.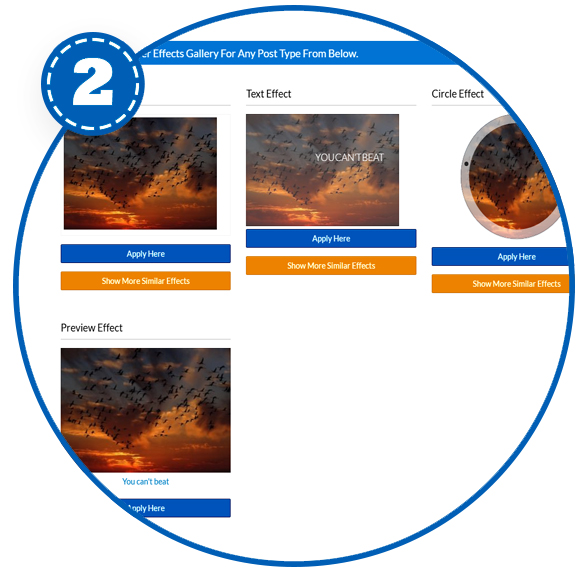 Premium Features
Automatically Adds Hover Effects On All Post Types
Automatically applies nice image hover effects on featured images of all post types ( default and custom ) registered within your wordpress site.
Apply Hover Effect On Custom Images
All Image hover effects can be applied to custom images also along with custom text with help of shortcode.
Apply Hover Effect By Post ID
Even if you provide post id of any post/page/cpt/product as parameter, shortcode will automatically fetch the featured image and will apply right hover effect on it.
A Big Image Hover Effect Library.
A big image hover effect library to choose different hover effects for different post types.
Ready To Use,Customisable Effects
Plugin provides both ready to use image hover effects and customisable hover effects for cutomised needs. Placeholders also provided for showing useful information on customised overlays.
Set Best Matched Image Overlay Color.
This plugin provides you the ability to set the color of overlay according to color of featured image of your post/page/cpt. #PostWiseControl
Woocommerce Supported.
We have included a much needed image hover effect specially for woocommerce product images. This effect allows the site vistor to have a close look on your product using a image maginifier system. Most e-commerce sites uses this kind of effect.
Visual Composer Supported.
This plugin works along with the very famous VC plugin. Our plugin provides a VC addon that can be used in VC editor for quick shortcode building according to needs.
Responsive,Multilingual
Hooks provided to customise major things, to a great extent without changing the core code. Fully Responsive. Multisite. Multilingual.